Connect with your social network account
Moderator: dmdhiker

Topic author

Nick

Bushwacker
Posts: 233
Joined: Fri Feb 15, 2008 6:57 am
Isle Royale Visits: 23
Location: DeTour Village, mi
At the request of the National Park Service, the Coast Guard will break out the west end of the Keweenaw Waterway, April 23. The Park Service plans to launch the RANGER III later in the week. The U.S. Coast Guard Cutter ALDER will approach from the west and then establish a track in the ice under Houghton-Hancock Bridge. The icebreaker will not transit Portage Lake and the east end of the Keweenaw Waterway. Alder will leave by the same track she arrived to avoid disrupting stable shore fast ice.

All recreational users of the Keweenaw Waterway should plan their activities carefully, and use caution near the ice.
Image may contain: ocean, sky, outdoor and water
---
I spent the years 77-79 on the USCGC Woodrush and Mesquite which were 180' ocean going buoy tenders out of Duluth. Spent 2 full winters on lake breaking ice while in summer tending all the aids to navigation on the lake. They were the best years of my Coast Guard career. Spent many a day breaking ice in Keweenaw Waterway and tying up at night at either west or east end and sometimes if we were lucky a stones throw from the Library Bar. Good times were had by all. I specifically requested to be stationed on these ships so I could get back to IR as a young man after first being brought there by my father as a 10 year old. IR had captured me as a boy I would take leave and have ship drop me at Windigo and 7-10 days latter get picked up at Rock. Image is pick up after 10 day trip in 78.Lived in Alaska in shadow of Denali for over 20 years and would head down to IR many times over the years. Heading out in June to IR for my 40th anniversary of my first trip there as an adult.
Last edited by
chief54
on Tue Apr 24, 2018 2:29 pm, edited 1 time in total.
first visit at age 10 in 1965 numerous times since then, 30+ times
---
May actually live on IR
Posts: 320
Joined: Sun May 08, 2011 9:19 pm
Isle Royale Visits: 7
Location: Kentwood MI
Very cool Chief54. I'm sure you have so many great stories, enjoy your trip!
---
NewbieCake
Posts: 5
Joined: Sun Dec 31, 2017 11:43 am
Isle Royale Visits: 1
Can you break up the ice to beaver island so our plane can get in there Memorial weekend

---
Forum Moderator
Posts: 1610
Joined: Wed Sep 12, 2007 1:11 pm
Isle Royale Visits: 12
Location: Hillsborough, NC
79: worked RH, 01: BI-DB-RH, 02: MC-LR-WL-CH, 05: MI-CI-MB-DF-RH-TM-RH, 09: MC-BI-DN-RH, 11: WC-HC-WC, 12: MC-CB-HL-TH, 13: RH-PI, 14: BI-ML-CI-CH-MB, 16: RH-CI-TI-RH, 17: WI-IM-SB-FL-WC, 18: MC-PC-BI-DB-RH-DF
---
NewbieCake
Posts: 5
Joined: Sun Dec 31, 2017 11:43 am
Isle Royale Visits: 1
Makes it look like it is paper laying on the water as they go through it.
---
Anybody else see the boat activity today on the Mott Island webcam? Appeared to be a larger and smaller boat breaking ice? Hopefully something gives scheduled to fly into Windigo in a little over 2 weeks
---
IR Expert
Posts: 1151
Joined: Sat Jul 03, 2010 1:25 am
Isle Royale Visits: 8
Location: Quad Cities, IL
According to
Marine Traffic
the 2 vessels are the NPS' small tug "Shelter Bay" and LCM "Angelique". Marine Traffic lists their destinations as Mott Island but it appears neither one has actually reached the dock yet, both a few hundred yards short. There's still enough snow on the ground they might have a difficult time finding the rock they left the front door key under.

NPS LCM Angelique
NPS Shelter Bay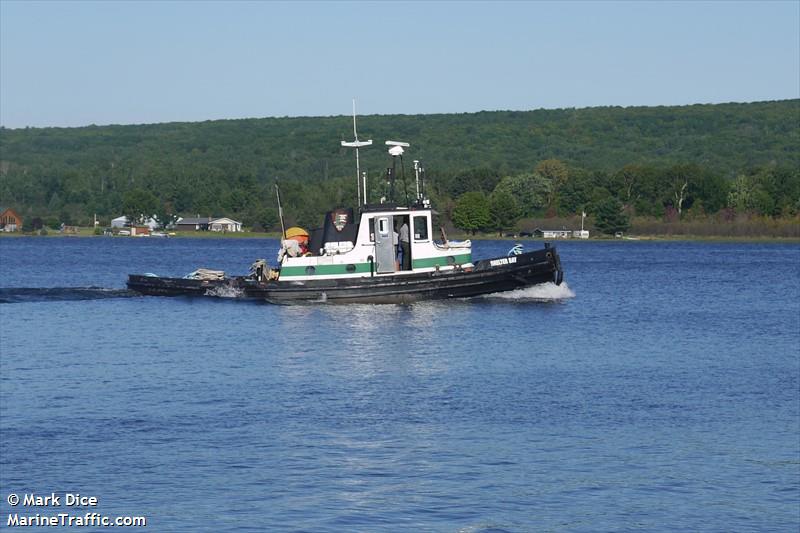 8 trips, 1975 x 2, 1976 x 2, 1978, 1985, 2000, 2013
---