Connect with your social network account
Moderator: hooky
I thought of this thread when I began discussing using GaiaGPS on a smartphone and the need for recharging. I also know that many people don't know some of the information contained here.

I carry a headlamp/flashlight, an InReach SE satellite GPS/Text Messenger, an iPhone 6S Plus, and sometimes another camera besides the one on my phone. I have used the InReach to send a text to friends to have a ranger come to assist me in a non-emergency situation where some help was needed. I also use the phone with Gaia GPS installed as a GPS. On long trips there may be a need to recharge things that are used.

Since the InReach & Phone are sealed systems, you can't change batteries or carry extras. I looked into various systems for charging where I could use the same batteries that are in the headlamp and the electricity could be used wherever needed. Many people carry small lipstick-shaped & sized rechargers such as those sold by Anker. The system described below will give something that is ca. 0.3 oz lighter than an Anker (3.0 oz) but is more flexible in that the battery can be used in a headlamp if needed.

While I can give you a lighter, more flexible system there are some drawbacks.

Power Banks
First a word about power banks. Most of these are a bit misleading in their advertising. While I have a PhD in chemistry I am not an expert in electricity and I hope any mistake I made is small.

A charger is not nearly as efficient as many of the advertisements lead you to believe. For example, I have an iPhone 6s plus with a 2750 mAh battery. I believe you can buy small, lipstick-style rechargers with up to 3500 mAh. The thought would be this would recharge my phone with power left over. However, only ca. 1800 mAh of this 3500 can be transferred. You will need 1.5 batteries to fully recharge my fully depleted phone. Two reasons. The first reason is the batteries in Anker & other chargers of similar type (including mine) operate at 3.7 volts. When recharging a device, rather than a voltage of 3.7, you need a voltage of 5.0. All rechargers contain a converter to do this. In converting to 5.0 you take a hit of 26%. 3.7 divided by 5.0 gives 0.74. Multiply 3500 by 0.74 and you get 2590 mAh of available charge. This is theoretical as converters in chargers are not 100% efficient. There is always some loss. The second reason is that the available mAh cannot be transferred 100% due to electrical resistance. There is internal resistance in the battery holding the charge, the charger, resistance in the cable used to transfer, resistance in the circuitry of the phone, etc. I've tested several different charging systems including an Anker (which worked fine) and I almost always find that I'm transferring no more than slightly more than 50% of the mAh reading that is on the battery. I've lost the piece of paper but I seem to remember 53%.

The system that I've been investigating is based on rechargeable lithium-ion batteries. In particular, the battery size, 18650. It is 18650 batteries that are inside almost all portable chargers including the lipstick size rechargers. This appears to be about the best weight to electricity content ratio I've seen in my limited experience. One 18650 battery weighs slightly less than 1.7 oz. I have found that in the past year or so that at least 3 companies that specialize in flashlights have begun selling a charger that can also operate as a power bank. The model I'm testing is the Nitecore F1. Fenix ARE-X1 is probably the same. As far as I know, the Nitecore & Fenix will only work with lithium-ion batteries. Both cost the same at ca. $10. Batteries will cost $12-15 each.

This charger weighs 1.0 oz. Adding the battery weight gives a total of 2.7-2.8 oz for a power bank with one 18650 battery installed. The current state-of-the-art for 18650s is 3500 mAh & I only use the protected versions - as only they will work in flashlights/headlamps. I have to estimate how many times I will recharge the phone & InReach and maybe the camera if I happen to record video which will burn through the battery.

Now you just carry extra batteries if you have a longer trip/need. The batteries need to be protected from contact with metals and from letting one end of one battery come in contact with the end of another battery. (Think videos on the internet of people who had fire coming out of their pocket where they had their Vape for smoking. These use 18650 batteries.) A flimsy 3 x 4" ziplock bag (found in craft jewelry departments) will do the job. It will hold 3 18650s for a total weight of 5.0 oz. I haven't used this bag in the field and you would want it somewhere in the pack where there is no wear & tear.

I tested this system with my phone multiple times last fall and it always worked; however, it's not very good at getting to 100% recharge but it will get to 95% quite easily.

The batteries are heavy; with one 18650 weighing about the same as 4 AAA batteries which are used in most of the headlamps I see used in equipment lists. You have to really make decisions about usage on long trips without resupply as you can easily end up carrying a pound of batteries.

By the way, although alkaline batteries generally have higher mAh capacities than rechargeable batteries, websites dedicated to batteries state that you cannot directly compare capacities of alkaline batteries with rechargeable batteries. They all claim that in high-drain devices such as cameras, a nimh battery of lower capacity will run a camera longer than an alkaline battery.

The charger/power bank I have used to recharge my iPhone, the InReach SE, a Sony a6000 camera, and a Nikon Coolpix P900 camera. I use a single cable sold by PowerTraveler which has both a lightning connector for the iPhone & a micro USB for most other devices. The cable is ca 6" long and weighs 0.3 oz. It's also expensive at $25.

I'm still evaluating headlamps that use 18650 batteries & have narrowed it down to a couple of this season. Please note that discussing headlamps requires a whole other thread as the information given on manufacturers websites is dramatically misleading - especially run times. Example, there is a manufactures standard for run time. This standard allows them to report the time it takes a headlamp to go from emitting full lumens to when it's emitting 10%. For example, it may start at 100 lumens and only run that level for an hour or so but it has a run time of 40 hours before it gets down to 10 lumens.

Another negative besides weight is rechargeable lithium-ion batteries are not very efficient in cold weather.
---
IR Expert
Posts: 1047
Joined: Sat Jul 03, 2010 1:25 am
Isle Royale Visits: 8
Location: Quad Cities, IL
Interesting results. While I don't doubt your empirical results, I think your 74% ratio is a bit of a coincidence. First, the 3.7 volts is a nominal value and it is always changing due to present value of charge and charge rate or discharge rate. Also, let's say for example you had a much larger charging pack, like the Anker 20,100 mAH unit. The available charging capacity (assuming the same charge rate which may or may not be true due to potential variances in terminal voltage of the charger pack) will be much larger than 74% of 20,000 or 14,800. 5,200 mAH of capacity will not be lost when charging the much smaller battery. The discharge curves for Li-Ion batteries are non-linear and are actually a family of curves based on discharge rate. Discharge rate is purely a function of the two terminal voltages and resistance. The resistance is as you note, affected by the cabling and the internal resistance of the two battery systems (and temperature). It's possible to get more energy (charge) out of a battery by controlling the discharge rate. At a lower discharge, the instantaneous current is of course lower, but the important thing is the voltage drop (losses due to resistances) is less. Therefore more voltage is available to force the charge to flow from the charging supply unit into the charged unit. The easiest way to control this (as you have observed) is to use a charging supply that has a greater (or much greater) rated capacity. You have also measured other non-linear aspects and losses due to the electronic voltage regulators converting the varying battery terminal voltage to and from the 5 volt DC (which is based on the USB standard) and also discovered how manufacturers stretch the truth when publishing ratings. One other thing you highlight is the importance of empirical testing before actual field reliance is required.
These Discharge Curves are for a battery rated at 2000 mAH (Actually, I'd rate it closer to 1800 mAH). Each curve is for a different discharge rate. (0.2C = 400 mA and 2C = 4000 mA). If discharged at a slower rate then the terminal voltage stays higher for a much longer period of time. With a higher terminal voltage more charge can be transferred.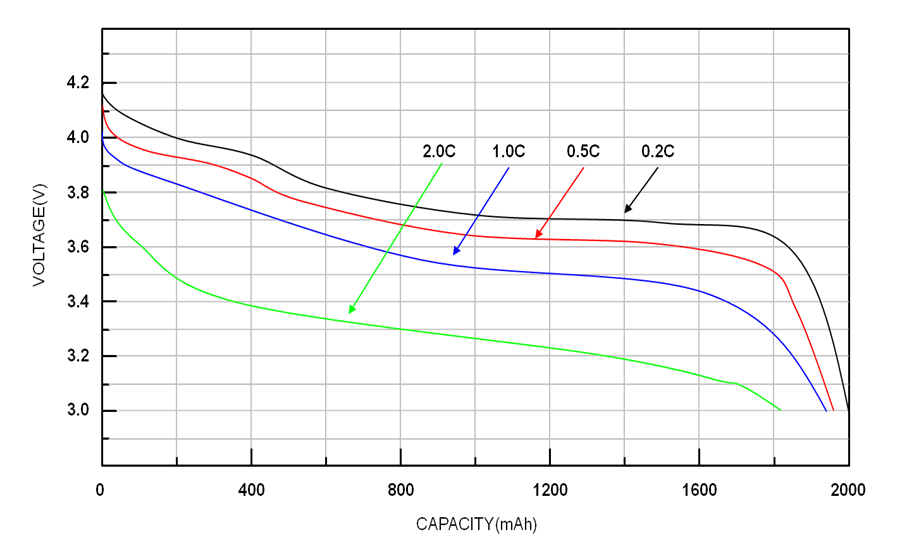 8 trips, 1975 x 2, 1976 x 2, 1978, 1985, 2000, 2013
---
Thanks Ed. Here's where my knowledge of electricity falls apart and maybe this info you can clarify. I don't know if a direct comparison can be made. Also I don't have equipment to test this. I'm relying on the battery reading of the cell phone to indicate how much was transferred and this is an estimate.

One of the units I tested was the Zerohour XD which holds 3 18650 batteries. I used 3400 mAh batteries for the tests. This means I had 10200 mAh charger. I don't know if this can be compared to the Anker as the Zerohour can be used with only 1 battery installed. I did find that it transferred slightly more power; however, (again lack of real testing equipment) I attributed this to the fact that it appears that the Zerohour XD drained the batteries to a slightly lower level than the other single battery chargers I tested. My understanding is that 18650 batteries begin at 4.2 V and as you say the voltage declines as the battery us used. Most flashlights, I think, are designed to cut off when the battery reaches 3.2, hence the average of 3.7 stated on the battery and which I used in the calculation. When I put the batteries drained by the Zerohour into my charger to recharge them, I got a voltage reading of below 3. 2.8 V if my memory is correct.

I know that overdischarging a lithium-ion battery is not good (Dangerous I think.) and the protection circuits on some/most/all? of them kick in at 2.5 V.

The chargers I "tested" were an Anker 3200 mAh and 3 different ones with the ability to remove and replace the 18650 battery: the Nitecore F1, Zerohour XD (holds 3 batteries), and the Zerohour Relic (holds 1 battery). I got similar charging results with all of them. I had no way to check the "discharged" voltage of the Anker but the Zerohour Relic & the Nitecore both drained the battery to 3.2 V as I remember.

The loss of power transferred due to resistance comes in the form of heat. This was most evident with the Nitecore which was well above room temperature at the end. (But still quite safe to touch.) I'm guessing that it's not as noticeable with the others as there is more mass to absorb the heat with the other chargers.
---
Entirely by accident I found the paper which had some of my data on it. I thought I had thrown it away. I charged my iPhone 6S Plus (2750 mAh battery) using the below chargers and used a Nitecore Digicharger D4 to recharge the 18650 batteries. The battery showed 4.2 V after charging. Each time I put the phone in airplane mode during charging so there would be no background activity drawing power.

Nitecore F1 charger/power bank with 3400 mAh battery. Two trials: Each time the phone began showing the phone with a 12% charge. In trial one the final reading was 83% and in trial 2 the phone showed 84%. Each time the battery showed a reading of 3.2 V when I put it in the Digicharger.

Anker 3200 mAh charger. One trial. Phone showed 12% at beginning and 82% when the Anker was exhausted.

Zerohour XD with 3 3400 mAh batteries installed. Three phone charges until batteries were exhausted. Trial one took phone from 12% to 95%. Had to stop early as I needed to use the phone.) Trial 2 began as soon as the phone charge dropped to 12%. Recharged to 100%. Trial 3 exhausted the batteries but took the phone from 12% to 70%. In between Trial 1 & 2 and 2 &3 I took the batteries out and put them in the Digicharger only long enough to get a voltage reading. After Trial 1 the batteries had dropped from 4.2 V to 3.85 V. After Trial 2, 3.57 V. Exhausted gave a reading of 2.82 V.
---
IR Expert
Posts: 1047
Joined: Sat Jul 03, 2010 1:25 am
Isle Royale Visits: 8
Location: Quad Cities, IL
Setting all the chemistry aside for the moment and looking at just the electrical aspects (I'm an electrical engineer

), charging a battery with another battery is very much the same as blowing up a balloon with another balloon. If both balloons are identical and one is "full" and the other is empty, then the best you achieve is both balloons holding about the same amount of air. Now, the balloon doing the charging (charging balloon) clearly needs to be larger (or hold more air than you want to transfer) but even more important is the charging balloon needs to have greater pressure (i.e. a higher voltage). We can imagine a balloon with really thick, strong walls that can create a lot of pressure. That high pressure balloon can blow up a weaker balloon to where the weak balloon is full and the strong balloon might be close to empty. So if the battery electrical voltage is represented by the pressure (difference in pressure is what's important) then the size of the orifice or the rate of air transfer represents the electrical current.
Now here's an important part.... if we make the charging balloon's orifice bigger it can theoretically charge (oops, blow up) the other balloon faster but it is going to automatically lower the pressure and thus limit how much air can eventually be transferred and the transfer rate never really goes as high as you'd think. The orifice size and battery circuit resistance are somewhat analogous but not exactly. Bigger orifice = greater air flow rate and Lower resistance = bigger current flow rate. But bigger orifice = lower air pressure and lower resistance SHOULD mean HIGHER voltage (pressure) but it usually means the opposite. This is because the actual voltage causing transfer is the internal battery cell voltage MINUS the lost voltage dropped across the resistance. Lost voltage = current X resistance so even though the resistance goes down the current also goes up, cancelling things out sort of. Because things aren't linear inside the battery higher currents mean less total charge can be transferred. The other nonlinear dynamic is that as a battery discharges its voltage decreases and as the other battery charges then its voltage increases.
Discharging the charging battery at a lower and lower rate increases the amount of total charge we can eventually get out of the battery. This automatically happens when the battery being charged is much smaller than the charging battery.
Something unrelated but interesting to think about. There is more total charge transferred over the discharge life of a single AA battery than there is in a typical lightning bolt. Almost 1000 times more actually. Not energy but charge.
8 trips, 1975 x 2, 1976 x 2, 1978, 1985, 2000, 2013
---
IR Expert
Posts: 518
Joined: Mon Jul 20, 2009 5:48 am
Isle Royale Visits: 1
Location: Miss. Gulf Coast
As mentioned, since recharging a battery is a lossy process, it's better to use devices with removable batteries and carry spares than to carry a recharger.
---