Connect with your social network account
Moderator: Tom

Topic author

Wilderness Junkie

LNT Expert
Posts: 76
Joined: Thu Jan 05, 2012 6:19 pm
Isle Royale Visits: 4
Location: SE Michigan
What an absolutely perfect trip. All the worries about weather and bugs were for naught. The weather could not have been better and we only had to deal with skeeters for about 30 minutes around dusk and dawn. Caught loads of fish (40+ walleye, well over 100 pike and even a coaster trout in Tobin Harbor).
Here are the details:
T-minus 1 day: We arrived in Copper Harbor around 7:30PM Sunday evening. We booked a room at the North Point Hotel and checked in (note: wonderful place to stay. We got 2 rooms with 2 queen beds each for under $80 a night and they were very clean and well maintained). Two of our crew decided to hit the hay and 2 of us headed over to Zik's bar since we were a little too excited to sleep and decided we need a 'few' to help us get to bed. Nice place with a freindly bar tender. Headed back to the room shortly after 10PM and fell immediately asleep.
Day 01: Woke at 6am ready to go. Headed over to the resturaunt attached to Zik's for a big breakfast at 6:30am when they opened (good omlettes!). Left shortly after 7am and staged our gear to get loaded onto the Isle Royale Queen.
The boat (or maybe ship?) was loaded and we headed out at 8:05am. The Lady was dead flat calm - not even a ripple. We could have paddled over to IR (although that would have a taken a little longer

).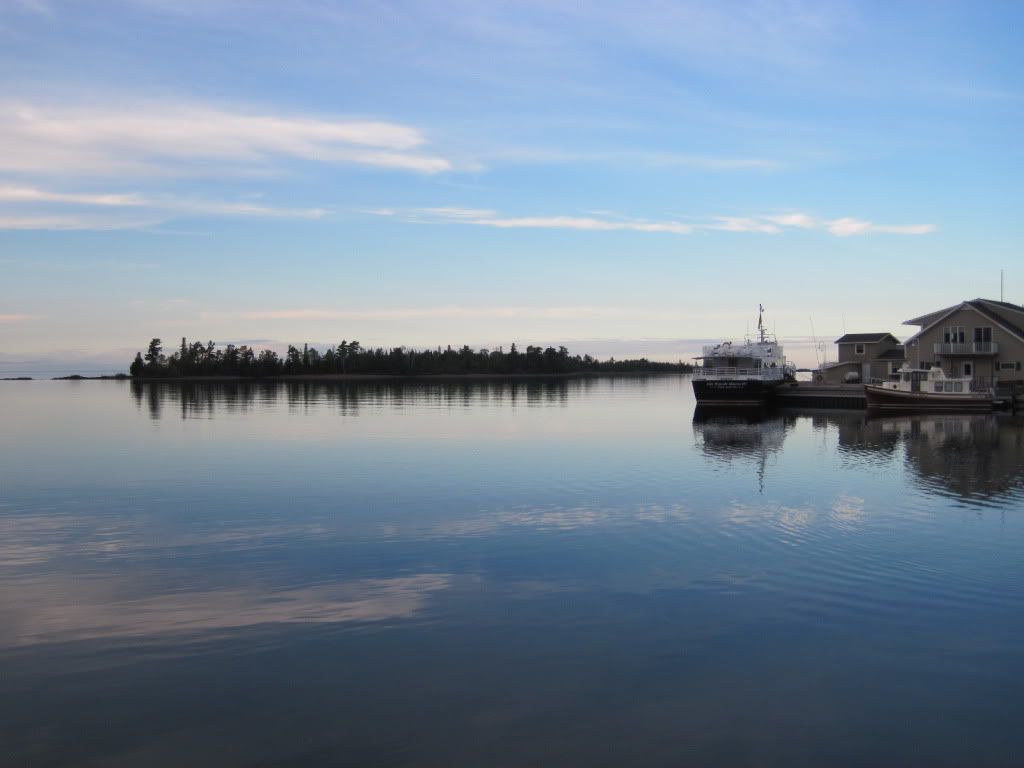 We arrived at the island right on time and our gear was unloaded. We transported our gear over to the docking area for the water taxis and hooked up with our captains. We were originally told it would be done in 2 trips since we have 4 guys and 3 boats (2 kayaks and 1 canoe), but since they had nothing else going on, they utilized both boats and took us all over at the same time. This saved approx. 2 hours of waiting time that we anticipated before we could move on to our next destination - already the trip was turning out better than expected.
After the short trip via water taxi to Chippewa Harbor, we unloaded our gear and decided to do a bit of exploring / fishing since we gained nearly 2 hours. I had a real bug up my butt to catch a lake trout out of my kayak, so I spent at least 2 hours trolling around the mouth of Chippewa Harbor, but didn't manage to hook any lakers.
At this point, I decided to head back and touch base with the rest of the crew.
After paddling a good portion of the way down the harbor, I found them slaying the pike on a weekbed on the North West corner of the harbor. They announced that they had caught a minimum of 20 pike, so I figured I should switch gear and get the skunk out of my boat. After tying on a Muskie Killer orange and black bucktail, I caught 2 pike in short order (1 was over 30", the other just under). One of our crew had landed a nice 36", so that was a great start to our fishing adventure.
At around 5PM, we decided that we should head over and begin our first portage. We managed to complete the portage via 2 trips, one for the boats and one for gear in approx 2 hours. The portage was a little more rugged than I expected, but I should not have been suprised as I have been to IR 2 times before and know the landscape.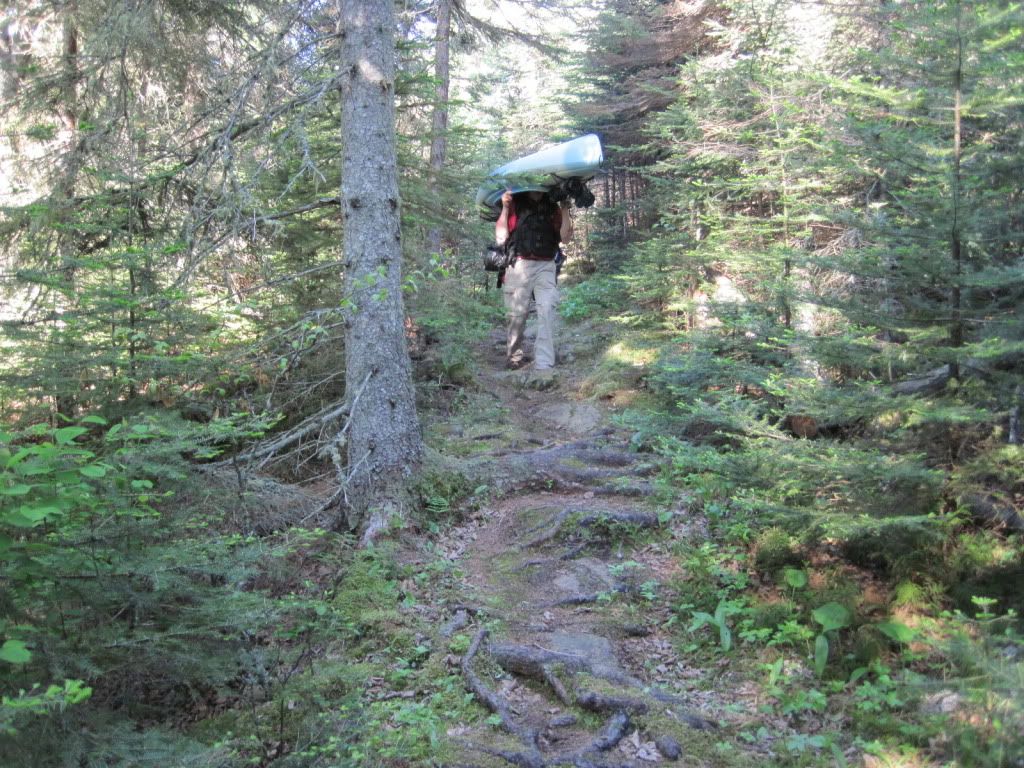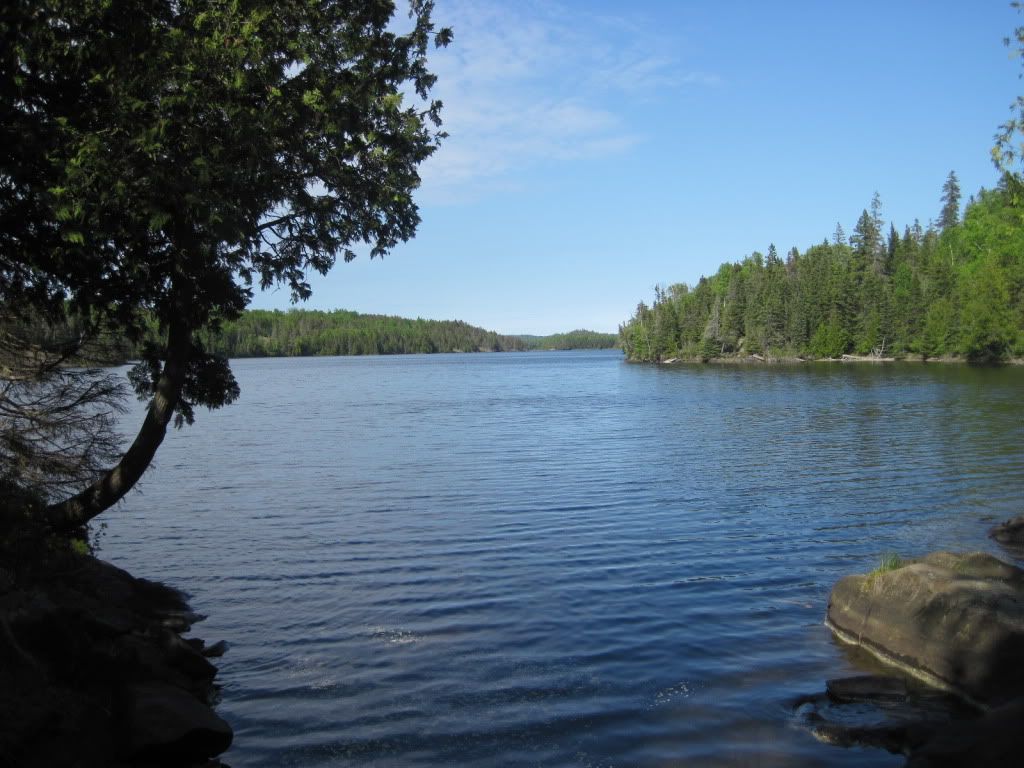 Needless to say, when we arrived at the camp site on Whittlesey lake, we were pretty beat and ready to set up camp.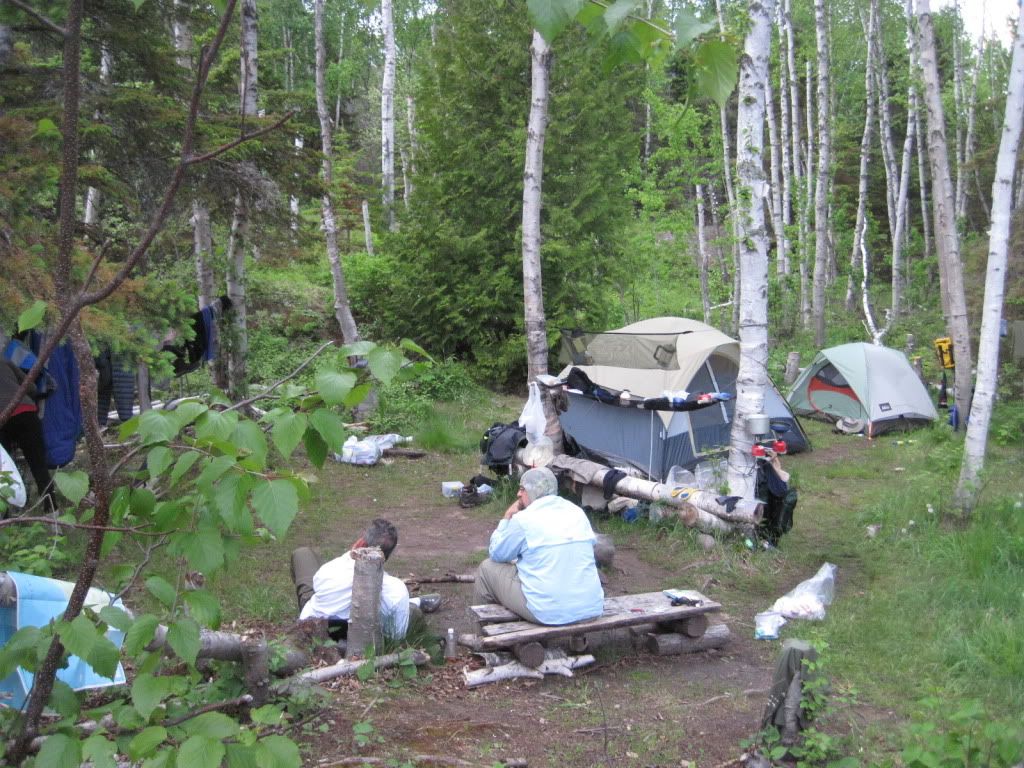 After settting up camp and knowng the lake was full of walleye, we decided to try our luck. Low and behold, we managed to land 6 walleyes - all between 18" and 22"! We were extatic to have fresh fish to suppliment our breakfast for the next day!
After smoking a cigar and have a few sips of 15 year old Scotch, we all turned in excited for the next day.
Day 2: We decided that we were going to use this day to fish Whittlesey lake. We woke to a decent breeze down the lake and small chop, but mild temps and no clouds.
We started the day around 5:15am with a cup of coffee and promptly got to fishing. In no time we landed 2 or 3 walleye right from shore in front of the camping area. We released these (against my religion but we did it anyway) since we already had a solid 4-5 lbs of walleye fillets ready for the day. We decided to eat breakfast which turned out to be blueberry pancakes with home made maple syrup (made by another member in our crew) and cajun blackened walleye. What an amazing backcountry meal!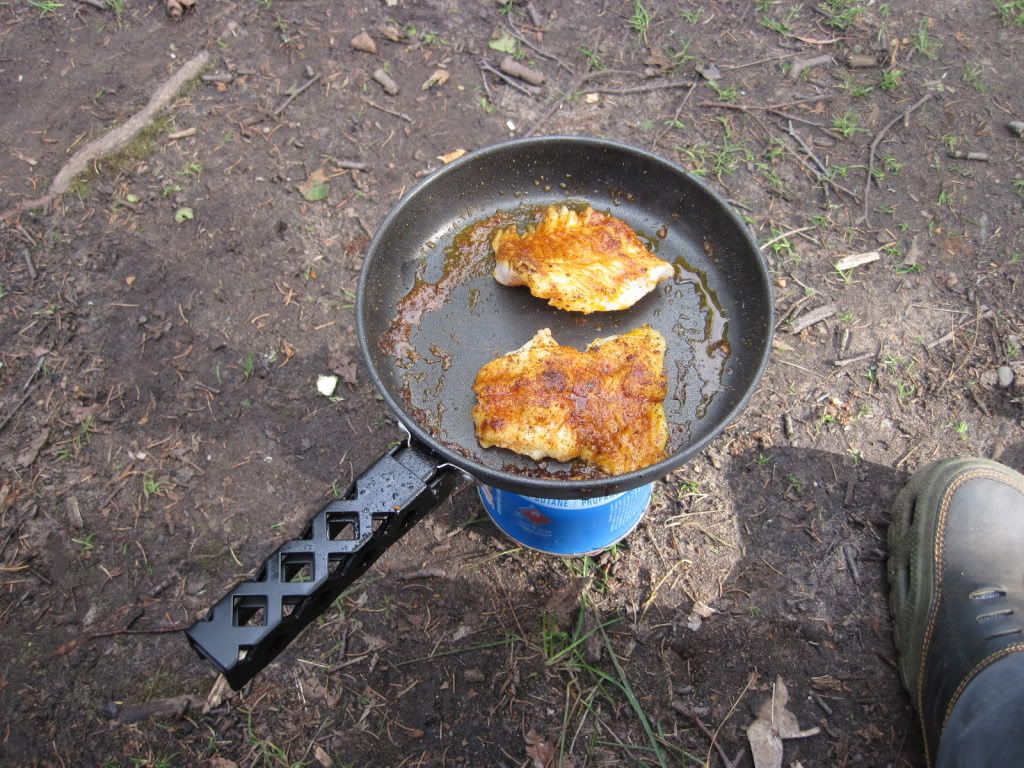 After our breakfast we straightened up camp and headed out for some fishing (approx 7:30 or 8am at this point).
I headed over to some islands west of camp area and casted Mr. Twister jigs along the drops and promptly landed a bueatiful 26" walleye. What a hog!! I caught 4 more eyes off the islands (threw back the big one, but kept 3 others since we ate all our previous catch for breakfast).
With lunch / dinner in the 'fridge' (as we called the stringer we kept with live fish in front of the camp area), I decided to try for some pike. We all worked the various reed beds starting to grow and I had good luck cast to the windblown points (the wind had picked up pretty good) and landed well over a dozen fish by lunch time - the biggest was 32". The orange and black bucktail was the ticket yet again.
When we met back for lunch, I found out the other guys didn't have quite as good of luck as me, but still landed 10 or 12 fish amongst the 3 of them.
We prepared lunch that consisted of a few granola bars and what else but some cajun blackened walleye (and a few pike fillets also).
After cleaning up for lunch, I took a nice long paddle back towards the portage from Chippewa and worked the north shore of the lake and south shore of the island (note: signs in the pit toilet ask that you avoid the area between the south shore of the big island and the south shore of the lake due to loon nesting areas so we avoided this area during our stay). I managed to pick up a few more pike along the way.
We all got back to camp around 7PM and cooked up a big batch of Cheddar Chicken Soup, but supplimented it by - you guessed it - adding big chunks of cajun blackened walleye and pike to the soup. Outstanding!! Honestly one of the best backcountry dished I have ever had. We followed that up with a batch of Mountain House Blueberry Crumble, had a cigar a few sips of Knob Creek and headed back to the lake to finish the night with some walleye fishing.
We managed to land 8 more walleyes that evening but released them all due to the plans of a quick oatmeal breakfast the following day so that we could have as much time as possible to explore Wood and Siskiwit Lake.
I need to take a break at this point. I will continue the report shortly......
Last edited by
Wilderness Junkie
on Wed Jan 30, 2013 4:22 pm, edited 1 time in total.
---
IR Expert
Posts: 532
Joined: Thu Apr 08, 2010 11:11 am
Isle Royale Visits: 6
Location: Chicago, IL
Damn I want some fish
I envy those that are knowledgable in the trade of fishing. Nothing beats good eating while backpacking and nothing tops fresh fish, especially some nicely spiced cajun fish. Yum Yum.
343.1 Miles Hiked: 2004 (3 Days), 2010 (11 Days), 2011 (13 Days), 2012 X 2 (8 + 12 Days), 2013 (9 Days/Paddling)
---
IR Expert
Posts: 637
Joined: Mon Mar 26, 2012 11:26 am
Isle Royale Visits: 2
Location: Central Indiana
Loving the report. Scotch and fresh fish, another reason I want to do a fall trip. Thanks for sharing the pictures and the report so far.
---
Great job, glad you had a good time....I can't wait!
"Wilderness is not a luxury but a necessity of the human spirit." NWP
---
Forum Moderator
Posts: 1715
Joined: Wed Oct 03, 2007 4:10 pm
Isle Royale Visits: 33
Location: Big Rock, IL
Nice walleye, the last time there we paddled through to Wood Lake (actually Siskiwit/Malone). I am hoping you did well on Wood and or Siskiwit.
---
Forum Moderator
Posts: 889
Joined: Tue Sep 11, 2007 10:58 am
Isle Royale Visits: 18
Location: Soupe Towne, WI
Thanks for the great TR so far, WJ! I love the fish pics, and as a backcountry camper who enjoys creature comforts (scotch, whisky, cigars), I give this trip two thumbs up.

FAKE EDIT: Please note I updated your post title to include "paddling Rock Harbor-Whittlesey-?" as per the request for naming threads in the Trip Reports section. Feel free to change it to suit your needs!
---

Topic author

Wilderness Junkie

LNT Expert
Posts: 76
Joined: Thu Jan 05, 2012 6:19 pm
Isle Royale Visits: 4
Location: SE Michigan
Finally found a few minutes to continue.......
Day 3 - We woke around 5:15am to those CRRAAAZZYYY loons again. Got up, made the usual cup of coffee and headed down for some shore walleye fishing while everyone else got up and moving. I caught 3 walleyes right off the bat and we decided we would keep these in the 'fridge' for our dinner since we planned on exploring Wood and Siskiwit for most of the day and we were not sure what time we would return and a plain old Mountain House dinnner just wouldn't do!!
We all ate our quick oatmeal breakfast (with some freeze dried peaches - an awesome addition to the oatmeal!) and got our gear ready for our day trip and pushed off shore around 7:30am.
We made our way down to the Whittlesey - Wood lake portage without wetting a line (figured we would get enough fishing in throughout the day).
The paddle was quick due to the lack of wind and the portage to Wood was 10x easier than from Chippewa harbor. There was only minor elevation change and barely a single rock along the trail.
We made quick time of the portage and set out across Wood lake. We figured we would take an hour or so to fish the lake and we were all anxious to explore Siskiwit and check out the camping area on Wood lake.
A shore troll into Wood lake and I hooked up and landed a nice 30" pike on my 5 of diamonds Dardevil spoon. This turned out to be the only fish we caught on Wood until the return trip. My experience with Pike on northern lakes is that the bite doesn't really get good until the sun is high, so I figured we just timed it wrong.
We all jumped out of our boats at the Wood lake campground to explore. It appears to be a nice place to set up, but we were a bit disappointed that you did not have a veiw of the water from any of the campsites (Whittlesey has a great view). We all agreed we would still like to stay a night or two on Wood on a return trip to IR.
After walking around for 30 minutes or so, we jumped back in our boats and headed out onto Siskiwit.
I was determined to catch a lake trout and my hopes were high. Unfortunately, after approx 4-5 hours of trolling from the channel approx 1/2 way down the southern shore, circling the large island near the southern shore, Ryan island and several reefs, all I managed were 2 hard hits (deep water, so they were definitely fish - or loons

). I trolled everything from Little Cleos, various salmon /lake trout spoons behind drop weights and dipsy divers, flies and squids behind small dodgers along with thundersticks, rapalas, bombers and other various body baits. I tried just about everything in my arsenal. I was only mildly disappointed. In hindsight, I should have taken the time to visit the cabin / station on the lake and check out the depth map (like everyone told me too). Siskiwit is a BIG lake and I felt like I was looking for a needle in a haystack. I did see a moose on the large island that is very close to the southern shore - an unexpected treat that scared the crap out of me when it busted from the waterside when I was only feet away. It turned out to be the only moose spotted by our group on the trip (saw several tracks on our last day hit to Scoville point).
After meeting back up with my buddies, we pulled of for a lunch break. We found an awesome hill along the eastern shore that jutted out in the lake and provided the best vistas of our trip. I took about 30 pics in this area, but I will only bore you with a few.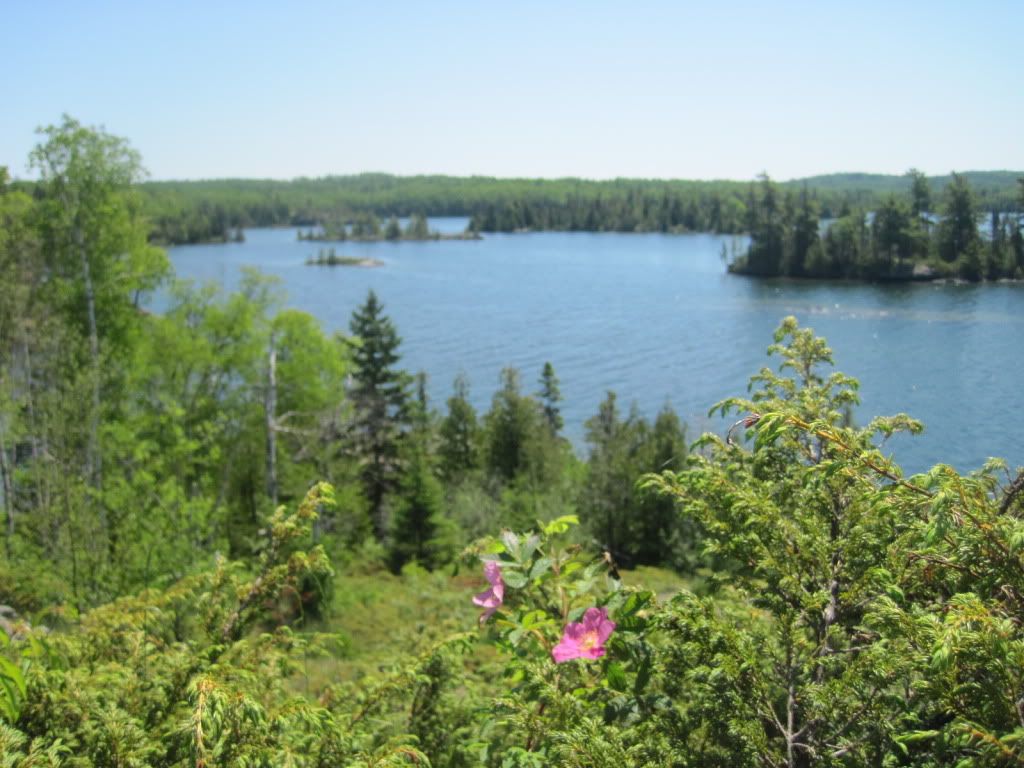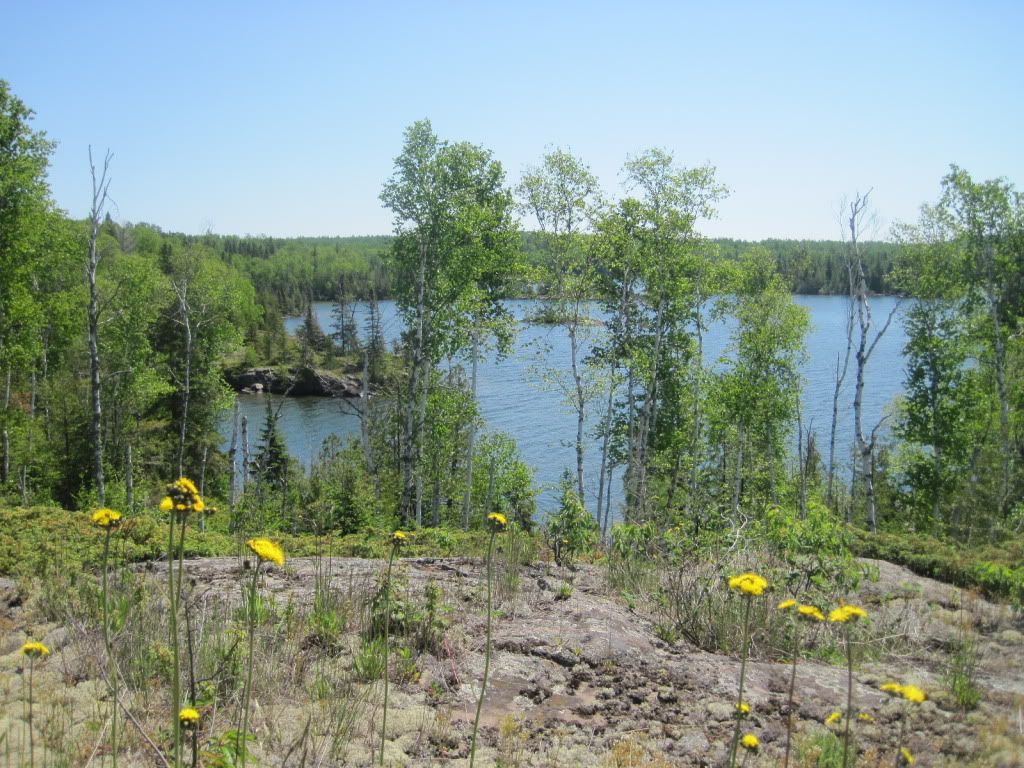 After finishing our lunch we paddled back to Wood lake for some pike fishing. I managed to land 4 more decent pike and had a MONSTER 40"+ come out of the water after my orange and black bucktail. I had finished realing and that bad boy came about 2 feet out of the water and unfortunately missed my bait. That was the closest to tipping the kayak I experienced all week.
Around 5PM we decided to head back to base camp and made the effortless portage back to Whittlesey. We fished along the way and picked up several pike, but we were all getting hungry so we headed back to camp to prep dinner.
Tonight's menu consisted of an order of loaded mash potatoes (flakes of coarse) that was dressed up with a package of Mountain House peas, green beans and corn. And of coarse, more walleye. We tried some Monterrey Chicken seasoning and it was good, but we all agreed the cajun was better (good thing I splurged and brought a good amount!).
The other guys had enough fishing for the day, but not me! After dinner I headed down and did some walleye fishing. After my fourth walleye, the only guy in the group still awake came down and we ended up catching 9 walleyes. This was our last day on Whittlesey so we decided to throw them all back since we didn't want to portage fish - no good way to refridgerate it anyway.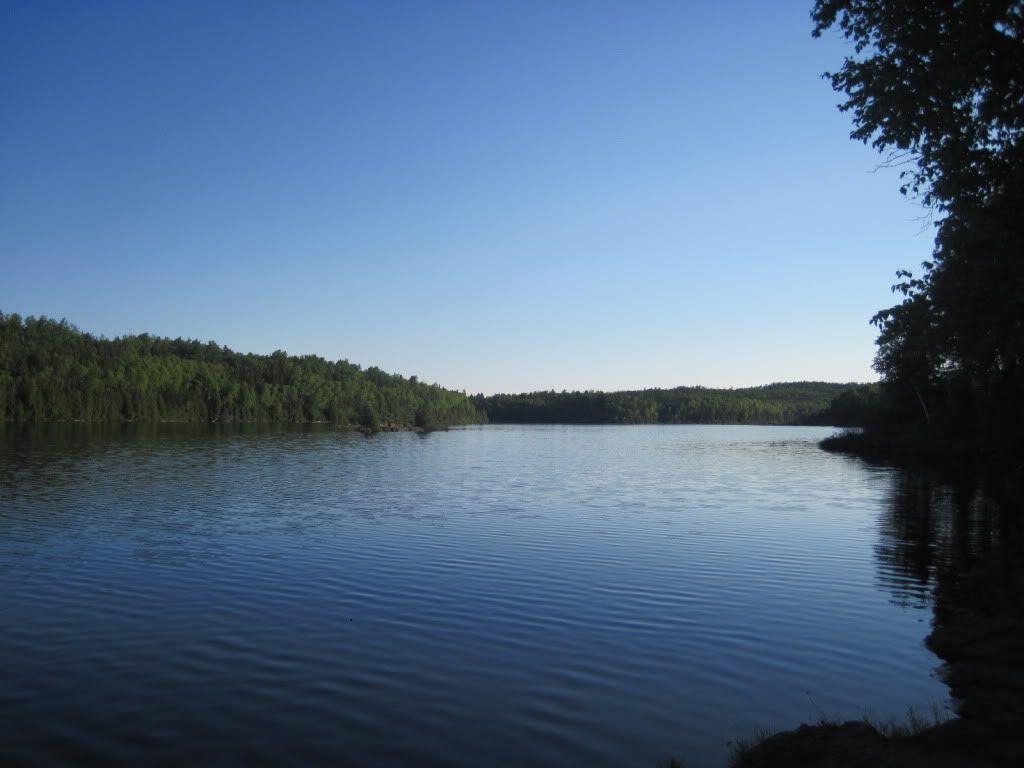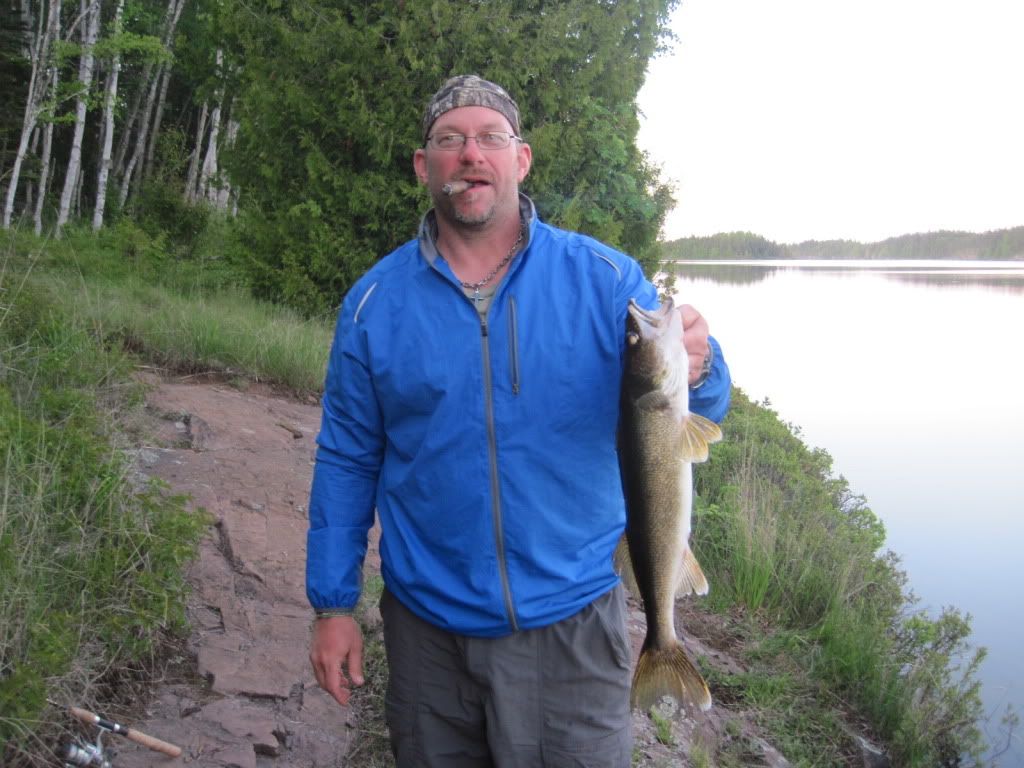 We finished up our last sips of whiskey and cigars and hit the hey.
Day 4 - back to RH
We got up and had another quick breakfast and broke camp. We loaded up the gear and ended up back on the lake around 7:30am.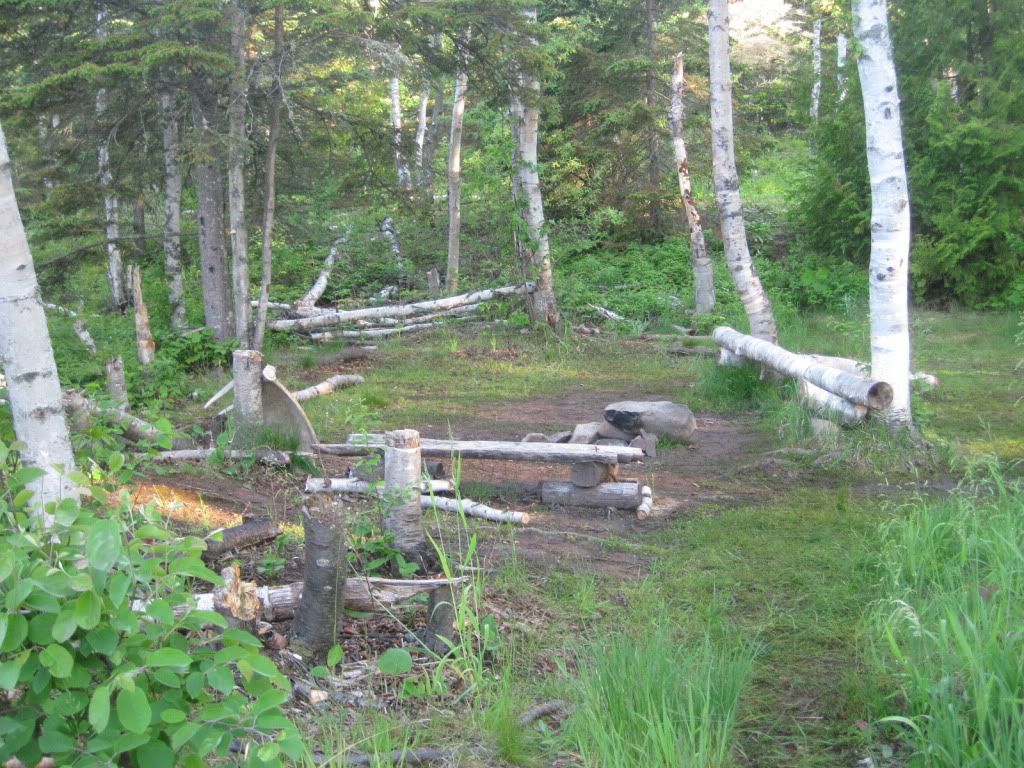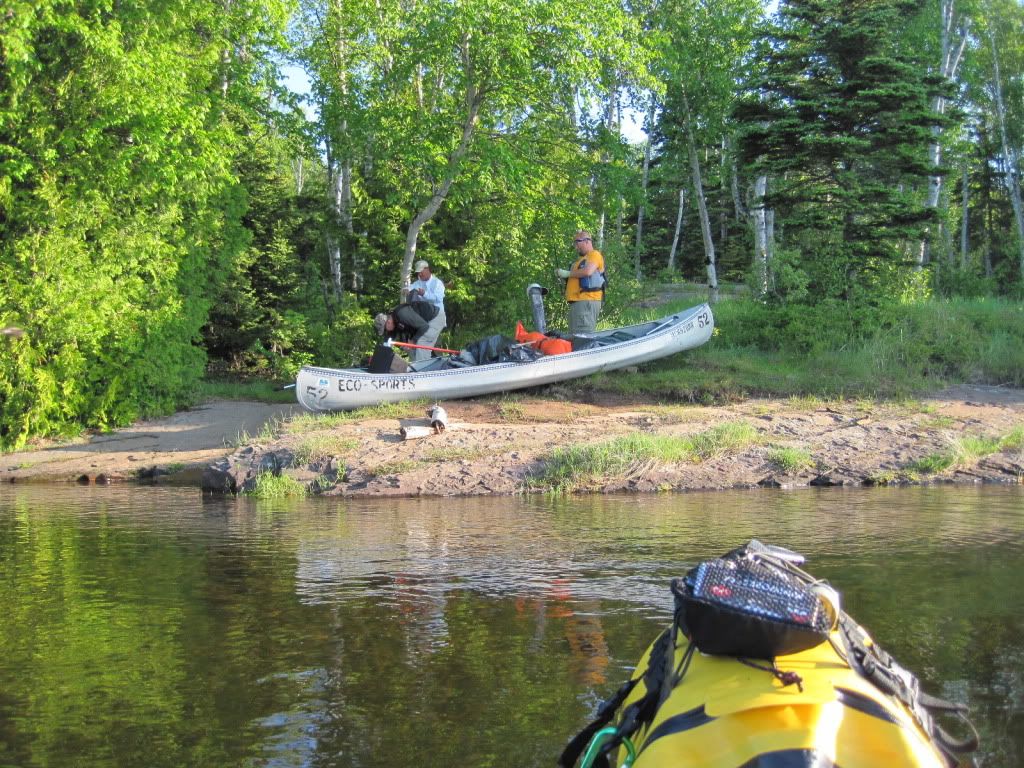 We completed the portage back to Chippewa Harbor and did some fishing on the way back to the dock. We managed to catch a few pike, but again, it was pretty early in the day.
We pulled up to the dock around 11:30am. I couldn't remember if I had booked the return taxi trip for 12, 1 or 2, so we decided to get there early. Around 12:30, but buddies were convinced that i had messed up and that they were not coming until tomorrow and they promptly began devising a way to rig up a sail and ride the wind back to IR (we had a decent West to East breeze that day). Around 1pm when I thought they were actually getting serious about it, the taxi showed up. They actually seemed disappointed

We had to take 2 trips back to RH, so my buddy and I that rode back on the first boat secured cabin #7 (the one on top of the hill) for the night. We met the other members of our group and got the boats stored and gear loaded into the cabin then decided to head down for a nice cold brew and something to eat from the snack shop.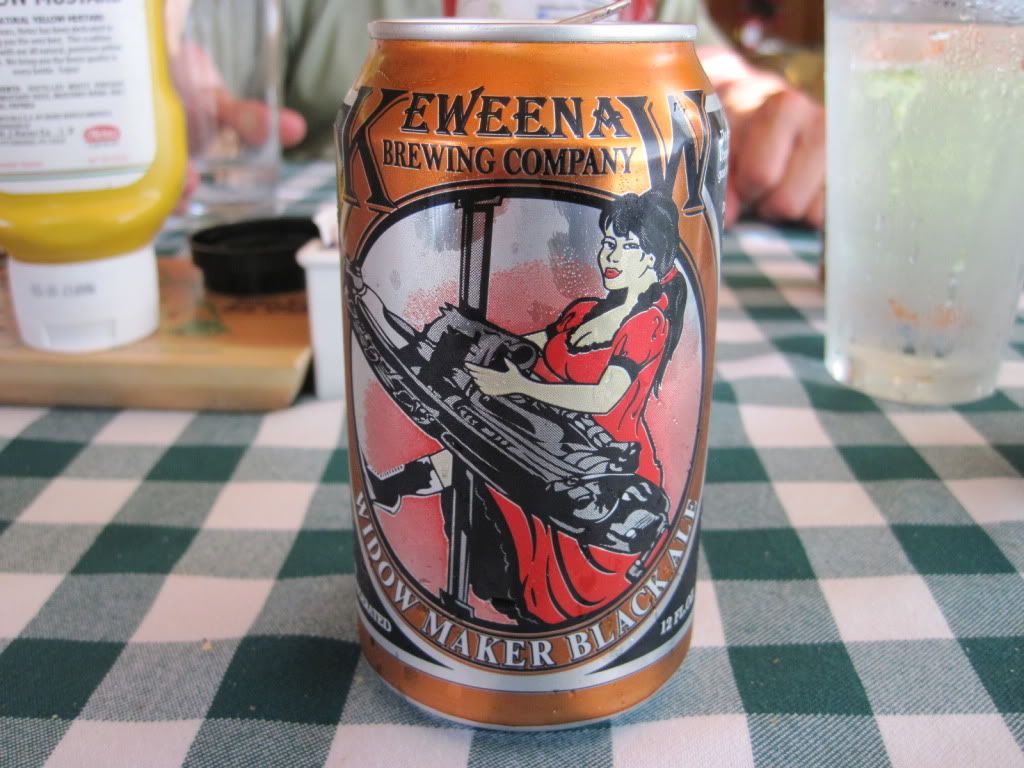 After dinner was complete, we took a quick walk to see the old Siskiwit mines then I headed back to grab my fishing pole and see if I could catch something off the dock over in Tobin Harbor. After a bueatiful sunset and about 100 casts, I landed a nice Coaster Brooky on a #2 silver mepps. This made up for the lack of lake trout (too bad we couldn't keep it for breakfast!).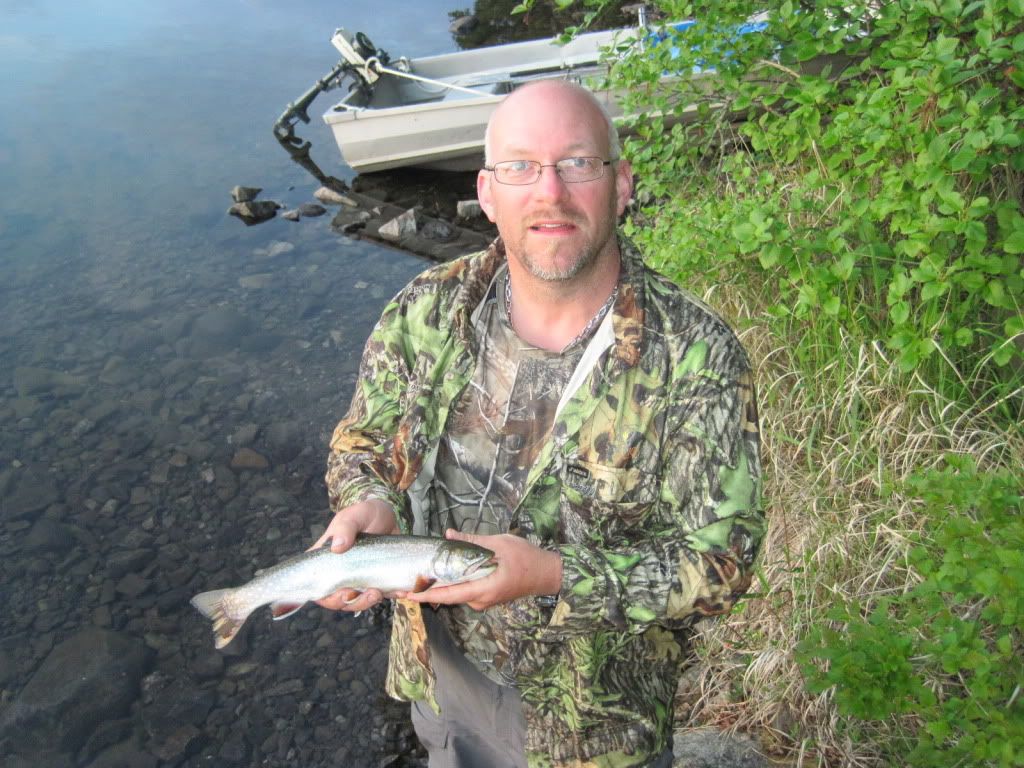 We headed back to camp and hit the sack.
Day 5:
We all got up around 7:00am today (slept in!) and made a decent Mountain House breakfast and headed out for a hike out to Scoville point. It was a nice hike and we saw several snowshoes and squirrels. No moose sightings, but some very fresh tracks along the Tobin Harbor shoreline.
As we arrived back in RH, the masses were starting to gather at the dock so we stopped to chat with several of the people we recognized from the boat ride over. I also picked up a few souviniers for myself and the kiddies from the store.
The boat ride back was uneventful and the lady was very calm yet again. It rained for about 2 hours (the only rain we saw all week) and we arrived back at Copper Harbor to clearing skies.
A couple reflections / thoughts / improvements I had along the way on this trip:
-While I thoroughly enjoyed kayaking the various lakes and the tremendous fishing it allowed us, I was slightly disappointed in the lack of hiking and missed it quite a bit. I felt that you really don't get to see some of the true bueaty of the island by boat alone. In the future, I will plan a route that will allow both kayaking and several overnight, longer distance hikes.
-I cheaped out on my sleeping pad and regretted it. I'm a side sleeper and had bruises on my hip bones by the end of the week. Do yourself a favor and spend the money on a good pad - or two!
-Taking boats allows a person to carry significantly more gear than packing alone. While I appreciated some of the creature comforts (the fancy meals and condiments, camp chairs, etc.), at no time did I feel like I was 'roughing' it (other than sleeping on my crappy pad). I miss that. To me that is part of the alure of a remote wilderness experience like IR.
-IR is still as wonderful as I remembered on my first 2 trips. It's been 15 years since I visited this island and I vow to return at least every other year even if I have to go solo until I explore every trail and camping area.
Thanks for taking the time to read my report. If anyone has any questions / suggestions, please feel free to ask!!
---
Great report I tried Fishing Siskiwit also clear lake I had one follow by a Laker in the evening.
---